GRØN STÆR (GLAUKOM)
Grøn stær dækker over en række sygdomme, der kan opstå, hvis øjets synsnerve bliver beskadiget men forårsager kun yderst sjældent blindhed.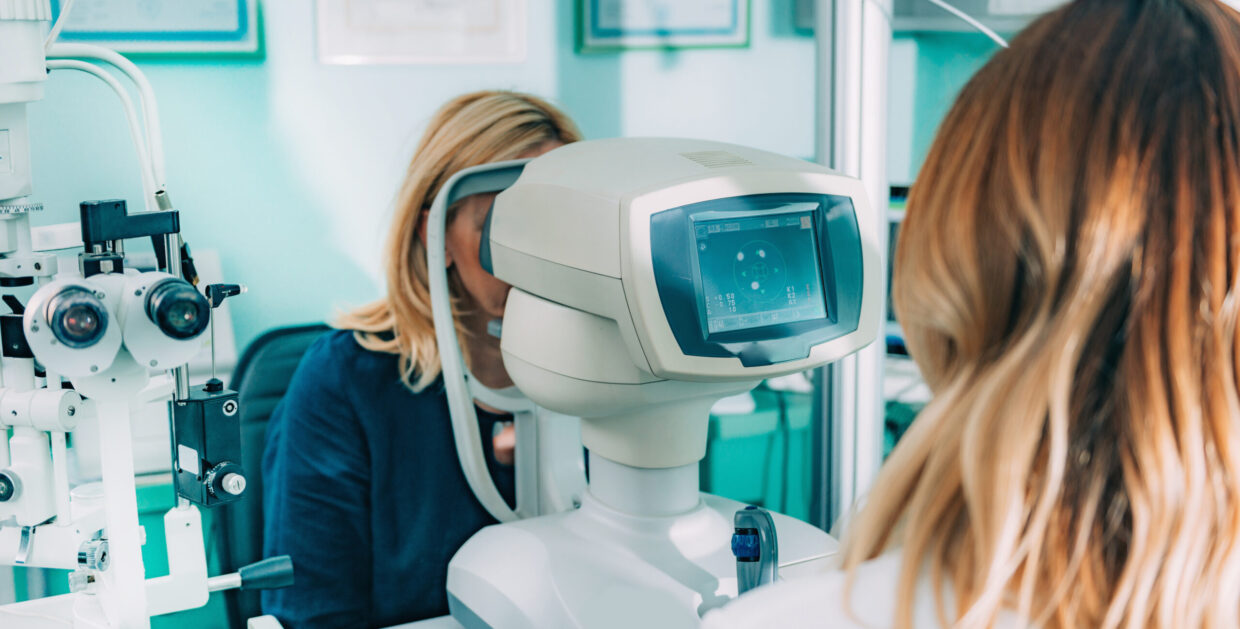 Hvorfor opstår grøn stær?
Grøn stær opstår, når der ikke er overensstemmelse mellem den væske (kammervandet), øjet producerer, og afløbet. Hvis afløbet er helt eller delvist blokeret, stiger væsketrykket inde i øjet, og det kan beskadige synsnerven.
Øjentrykket opretholdes ved en konstant strøm af kammervæske, der forsyner øjets linse og hornhinde med næringsstoffer og forlader øjet gennem øjets afløb. Problemet opstår, når kammervæsken har svært ved at komme igennem afløbet, og produktionen og tilførslen af væske samtidig er uændret. Det skaber en ubalance, der får væsketrykket til at stige. Et akut forhøjet tryk kan føre til øjeblikkeligt synstab, mens et gradvist forhøjet tryk med til vil svække synsnerven.
Hvem får grøn stær?
Grøn stær viser sig typisk først efter de 60 år. I sjældne tilfælde kan sygdommen være medfødt men viser sig sjældent før 35 års alderen.
Grøn stær kan være arvelig. Derfor er risikoen for at få sygdommen 10 pct. større, hvis du har en nær slægtning, der lider af grøn stær. Den vigtigste risikofaktor er dog væsketrykket i øjet. Jo højere væsketryk, desto højere risiko.
Typer af grøn stær
De to mest almindelige former for grøn stær er kronisk grøn stær og akut grøn stær.
Akut grøn stær
Akut grøn stær kan opstå pludselig og er ofte smertefuld med gener som hovedpine og eventuelt kvalme og opkast. Synet bliver sløret, og du ser regnbuefarvede ringe, når du kigger på en lyskilde.
Det sker, fordi trykket i øjet stiger voldsomt på grund af en blokering af øjets indre væskeafløb og kan resultere i, at synsnerven visner inden for få dage. Akut grøn stær er en sjælden sygdom, der skal behandles af en øjenlæge med det samme.
Symptomer på akut grøn stær:
Ringe omkring lys når det er mørkt eller i svag belysning.
Tågesyn om aftenen.
Hovedpine og smerter omkring øjet i forbindelse med ovenstående.
Symptomer forekommer hyppigst hos personer over 60 år med langsynethed.
Faresignaler:
Tågesyn med evt. sortnen for øjet.
Rødt øje evt. med stor pupil.
Hovedpine smerte og trykken i øjet.
Almen utilpashed, kvalme og evt. opkastning.
Oplever du ovennævnte symptomer, skal du straks søge læge, skadestue eller øjenlæge, da der kan opstå varig synsskade.
Warning
: Undefined array key "tile_top" in
/home/optiker2/public_html/wp-content/themes/boza/includes/shortcodes/tile/shortcode.php
on line
97
SYMPTOMER PÅ KRONISK GRØN STÆR
Grøn stær i familien (far, mor eller søskende), familiemedlemmer over 35 år bør få deres øjne undersøgt.
Personer omkring de 45 år og op bør i hvert fald en gang kontrolleres af øjenlæge.
Hvis du oplever skygger i synsfeltet, når du sammenligner dine øjne, bør du kontakte en øjenlæge.
Kronisk grøn stær
Kronisk grøn stær er den mest forekommende type af grøn stær og udvikler sig langsomt over årene.
Patienter med sygdommen opdager måske ikke, at de har synstab, før skaderne er så udtalte, at de fx overser store genstande til siden. Eller det centrale syn kan være påvirket i en grad, så det er svært at se tv eller læse avis. Sent i forløbet kan patienten opleve et kikkertsyn, der giver et meget snævert synsfelt med store gener.
Hvordan behandler man Grøn stær?
Uanset hvilket type grøn stær der er tale om, vil behandlingen søge at sænke trykket i øjet.
Medicinsk behandling
I de fleste tilfælde vil man behandle grøn stær medicinsk med øjendråber, der sænker trykket. Afhængigt af forløbet kan der behandles med én eller flere typer øjendråber, der anvendes en eller flere gange om dagen. I sjældne tilfælde kan behandlingen suppleres med tabletter og akut grøn stær medicin, der drikkes eller injiceres i en blodåre.
Laserbehandling
Laserbehandling kan foregå på to måder.
Ved akut grøn stær kan man skyde hul i regnbuehinden (iris) med en særlig type laserstråling og herved i en lang række tilfælde helbrede patienten for fremtidige anfald.
Ved den mere almindelige kroniske form for grøn stær kan man i nogle tilfælde sænke trykket ved at påvirke kammervinklen med laserstråler. Behandlingen bruges ofte som supplement til den medicinske behandling men kan sjældent erstatte den.
Operation
Hvis hverken medicinsk- eller laserbehandling kan holde trykket i øjet tilstrækkeligt lavt, kan et kirurgisk indgreb være en mulighed. Her vil man skabe et nyt afløb fra øjets indre, så kammervandet kan løbe væk under bindehinden.
Læs også Øjenforeningens pjece om grøn stær
Over 100.000 danskere er i behandling for grøn stær. Sygdommen defineres ved et gradvist tab af nethindens nervetråde. Årsagen hertil er ukendt. Brochuren beskriver symptomer på grøn stær, samt de eksisterende behandlingsmuligheder.
Kilder:
sundhed.dk
netdoktor.dk
øjenforeningen.dk