HVAD ER SAMSYN?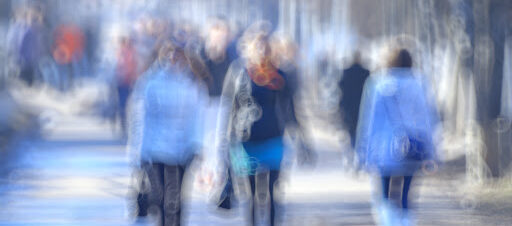 Samsynet er den måde, øjnene arbejder sammen på. Et godt samsyn kræver to velfungerende øjne, der er i stand til at fokusere på det samme objekt på samme tid, uanset blikretning, ud fra to forskellige vinkler. På den måde er du i stand til at smelte billederne fra dine to øjne sammen til ét fælles billede, som også er det der gør, at du kan se 3-dimensionelt.
Læs også informationsbrochuren "3D – oplever du verden i tre dimensioner"
Ikke medfødt
Evnen til samsyn er ikke medfødt men skabes inden for de to første leveår og færdigudvikles i løbet af de næste 6-8 leveår. Mennesker, der aldrig har udviklet samsynet, oplever normalt ingen problemer med det i hverdagen.
Hvad bruges samsynet til?
Vi bruger samsynet til at orientere os og bedømme afstand i forhold til andre objekter – fx i trafikken, når vi skal vurdere, om afstanden til en modkørende bil er stor nok til, at vi kan foretage en overhaling eller, når vi skal kaste, gribe eller ramme en bold.
Samsyn og indlæring
En del skolebørn går rundt med uopdagede synsproblemer, herunder problemer med samsynet. Fx vil mange opleve, at teksten flyder sammen ved læsning, fordi de ser dobbelt. Ofte ved børn ikke selv, at der er noget galt, fordi synet ikke er noget, de kan sammenligne med andre.
Nedsat synsfunktion hos børn kan få store konsekvenser både i og uden for klasselokalet, da synet er barnets vigtigste redskab til indlæring.
Derfor er det vigtigt, at du som forælder holder et godt øje med, om dit barn viser tegn på samsynsproblemer: gnider sig meget i øjnene, døjer med hovedpine, har svært ved at læse i lang tid ad gangen, hurtigt bliver ukoncentreret eller ser dobbelt.
Typiske symptomer på samsynsfejl
Warning
: Undefined array key "tile_top" in
/home/optiker2/public_html/wp-content/themes/boza/includes/shortcodes/tile/shortcode.php
on line
97
MISTANKE OM SAMSYNSFEJL?
Har du mistanke om, at der er noget galt med dit samsyn, er der flere ting, du skal være opmærksom på.
Det er en god idé at tage udgangspunkt i, at du ikke mærker noget til et normalt samsyn. Så hvis du i øvrigt er rask men føler betydelig anstrengelse eller besvær med at se i løbet af dagen, er det sandsynligt, at noget er galt.
Du kan vurdere dit samsyn ud fra disse 3 trin:
Første trin er at afgøre, om dit helbred er godt. Er du i tvivl, eller har du mistanke om sygdom, skal du altid kontakte din læge eller en øjenlæge.
Andet trin er at finde ud af, om en simpel brillefejl kan forklare generne. Få lavet en synsundersøgelse hos en optiker eller øjenlæge. Men vær opmærksom på, at almindelige synsprøver ofte er en metervare. Når de er bedst, indebærer de højest en screeningsfunktion for de mest kendte samsynsfejl.
Er synet stadig anstrengt, og kender du ikke nogen god forklaring på det, er tredje trin at få foretaget en dybdegående samsynstest.
Kan du nikke genkendende til en eller flere af følgende symptomer, kan det muligvis skyldes problemer med dit samsyn:
Træthed, særligt efter læsning
Koncentrations- og fokuseringsbesvær
Sløret syn og tendens til at se dobbelt
Frontal hovedpine sidst på eftermiddagen eller efter læsning
Læsebesvær fordi teksten flyder sammen
problemer med at omstille far kort til lang afstand og omvendt
Dovent øje og skelen
At se dobbelt kan være meget generende. Hjernen vil derfor forsøge at modvirke tilstanden ved enten at fravælge at benytte det ene øje, som gør det "dovent" eller ved at opgive at lade øjnene følges ad. Du skeler, når dine to øjne ikke ser i samme retning. Du kan skele hele tiden eller lejlighedsvist – typisk når du er træt.
Læs mere om symptomer på samsynsfejl
Kan samsynsfejl behandles?
Samsynsfejl kan i en del tilfælde afhjælpes ved brillekorrektion eller synstræning. Hvilken behandling, der er relevant, afhænger selvfølgelig af, hvad du fejler.
Samsynstest – hvad skal undersøges?
Formålet med en samsynstest er af afgøre, om testpersonens samsyn ligger inden for de normale grænser.
Er det i grænseområdet eller udenfor – da at kortlægge den indre sammenhæng. Derefter, at bestemme det optimale hjælpemiddel eller alternativer, hvis der er valgmuligheder.
En samsynstest tager udgangspunkt i testpersonens behov og foretages normalt af en neurooptometrist, denne test skal som minimum indeholde:
Grundig kortlægning af symptomprofilen, tidligere anvendte hjælpemidler og helbred.
Status af dybdesans og motoriske færdigheder – herunder bevægelighed, skjult skelen og fusionskræfter.
Bestemmelse af den optimale brillestyrke og vurdering af fokuseringsevnens kvalitet.Vurdering af belastningsevne og smidighed i frit rum.
Efter testen kan neurooptometristen give dig en god sammenhængende forklaring samt en handlingsplan. Hvis du ønsker det, skal der også foreligge en skriftlig redegørelse.