Klar, parat, skolestart…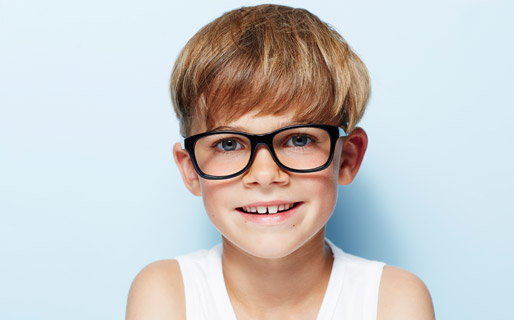 8 tegn på, at dit barn har brug for briller
Et nyt skoleår er netop begyndt for mere end en halv million børn i folkeskolen. Det betyder nye udfordringer og mange timer foran skærm og tavle. Det stiller store krav til synet, og meget tyder på, at stadig flere børn har brug for briller. Derfor er det en god idé at få dit barns syn tjekket.
Børns øjne i dag skal klare flere timers koncentreret arbejde, både i skolen og i den tid, de bruger foran TV, iPad og computer, og det stiller større krav til synet, fortæller formand i Optikerforeningen Per Michael Larsen.
Undersøgelser viser, at 4 ud af 20 børn har problemer med synet, når de starter i skole, mens andre først får symptomerne primært i indskolingen.
– Børn ved langt fra altid selv, at de har brug for briller, og derfor kan forældre med fordel være opmærksomme på disse otte tegn på, at barnet kan have brug for briller og dermed bør få tjekket synet, råder Per Michael Larsen.
1. BLINKER MEGET
Hvis dit barn blinker meget, kan det være tegn på, at det har problemer med synet. De mange blink gør barnets øjne let bliver irriterede, og barnet skal derfor bruge ekstra mange kræfter på at fokusere og se klart.
2. KNIBER ØJENEN SAMMEN ELLER SKELER
Læg mærke til, om dit barn kniber øjnene sammen for at se ting på afstand, eller om det skeler og dermed har svært ved at styre og koordinere sine øjne. Man opdager bedst skelen ved at to øjne, der normalt ser i samme retning mod et mål, pludselig ser i to forskellige retninger.
3. GNIDER ØJNE
Hvis dit barn har røde, irriterede øjne og flere gange om dagen gnider sig i øjnene, kan det skyldes synsproblemer.
4. HOLDER HOVEDET PÅ SKRÅ
Har dit barn tendens til at holde hovedet på skrå eller drejer hovedet, når det skal fokusere? Det kan være tegn på, at dit barn bruger det ene øje mere end det andet for at se tydeligere.
5 SIDDER TÆT PÅ TV OG COMPUTER
Læg mærke til om dit barn sidder påfaldende tæt på TV-skærmen eller holder bøger og iPad helt op til ansigtet for bedre at kunne se, da det er de første tegn på, at det kan være relevant at få tjekket synet.
6. HAR SVÆRT VED AT KONCENTRERE SIG
Hvis dit barn skal bruge kræfter på at fokusere for at se optimalt, bliver det ekstra træt og mister derfor hurtigt koncentrationen, hvilket smitter af på lysten til at læse og lave lektier. Det kan også være, at dit barn bevæger hovedet, når det læser en tekst eller peger med fingrene på bogstaverne eller fortæller, at bogstaverne flyder ud.
7. PROBLEMER MED MOTORIKKEN
Syn og motorik er tæt forbundet, så hvis synet halter, vil dit barn også have svært ved at koordinere sine bevægelser. Det kan give sig til udtryk ved, at det f.eks. spilder, når det spiser og drikker, snubler og går ind i ting eller har problemer med at gribe en bold og slå koldbøtter. Som regel bliver det også hurtigt svimmel eller køresyg.
8. HAR HOVEDPINE OG ER TRÆT
Hovedpine er et meget klassisk symptom på synsproblemer. Muskulaturen i og omkring øjnene spænder mere, når dit barn anstrenger sig for at se, og derfor kan der opstå hovedpine. Du skal også holde øje med, om dit barn generelt virker træt og uoplagt i sammenlignet med andre børn på samme alder.
VÆRD AT VIDE
Du kan altid få tjekket dit barns syn hos optikeren. Hvis der er behov for briller eller kontaktlinser, og dit barn er under 10 år, vil optikeren henvise barnet til egen læge eller en øjenlæge for at sikre, at der ikke er andre symptomer, I skal være opmærksom på. Derefter kan optikeren hjælpe med at finde den helt rigtige løsning.
Når dit barn har fået briller er det en god idé, at komme forbi optikeren jævnligt og få justeret stellet, strammet skruerne og rettet stængerne, så de altid sidder godt. Du kan også med fordel få tjekket dit barns syn en gang om året, da øjnene udvikler sig frem til teenageårene, hvorefter synet som regel stabiliserer sig.